Interview vol.1
Mr. Darren Dean ("Kinyarwanda", Producer)
Q. How did you feel about the Festival? Especially with our festival's focus on digital cinema, what was difference between our festival and other festivals?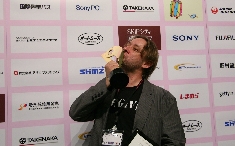 A.  I loved the Festival. I loved it to be interested in the new culture. As far as digital cinema goes, it's remarkable. The film looked and sounded better than it has at any festivals it has played at so far. It was a remarkable experience too. It almost made me feel like sitting through the film again because it sounded and looked so beautiful. The Festival and festival staff and everyone were so wonderful to meet, work and collaborate with.
Q. What was the motivation behind producing this film?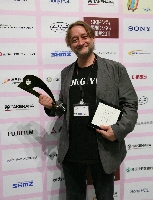 A. We became interested in working on this film from an idea that the Executive Producer had. We all heard about the stories and research, and we knew about the genocide. But in America, very little was reported, not as much as it could've been, or should've been. So we did some more research and we listened to more stories that we heard. We really wanted to be a part of this film, and to be able to facilitate bringing it to a much wider audience, introduce them to the power of the original filmmaker Ismail. We wanted to help him to do that. He brought us abroad and he brought us to Rwanda. It is a project I will never forget working on.
Q.  Would you mind letting us know about your next project? Do you have any plan to collaborate with the Director, Alrick Brown, again?
A. I would love to collaborate with Alrick Brown again. I know he is working on a few projects. He's going to do a show for ABC coming up in the early winter in 2012. He is also working on a couple of new films. I'm working on a couple of new films as well. He's somebody I would love to work with again.