Related Events [ Free Admission / No English Subtitles ]
Mama Theater Screening

 7.19(Thu) 10:30
Mama Theater is a baby cart accessible venue equipped with a private space to change diapers and breastfeed babies. Enjoy the movie about older folk living happily narrated by Kirin Kiki.
*This event is for adults accompanying babies only. Sound is lower and lighting is brighter than a regular theater setting.
*No English Subtitles
LIFE IS FRUITY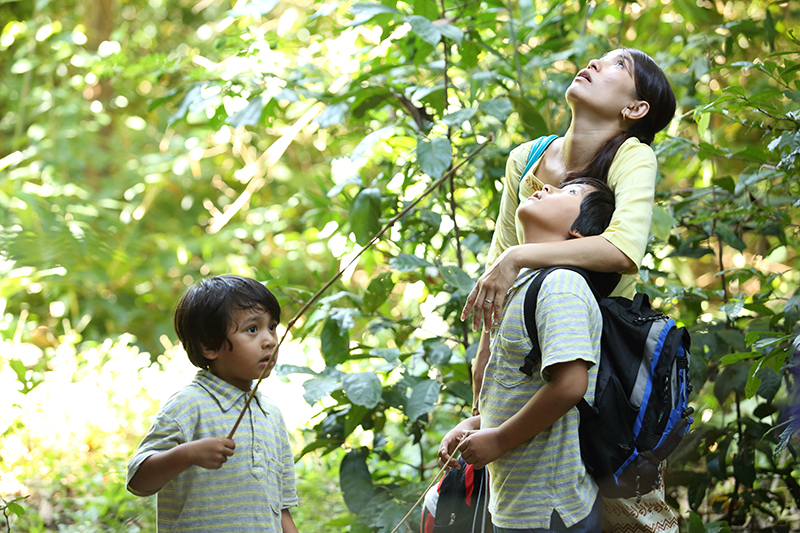 © TOKAI TELEVISION BROADCASTING CO., LTD.
Architect Shuichi Tsubata and his wife Eiko live surrounded by forests in a suburban development in Kasugai, Aichi Prefecture. They maintain a self-sufficient existence and adjust their lifestyle accordingly to the four seasons. The documentary explores how to live fruitfully.
Distributor: Tokai Television Broadcasting
---
Free Admission (First come first served basis)
Capacity: 30 seats
For Inquiries: SKIP CITY INTERNATIONAL D-Cinema FESTIVAL Office TEL: 048-263-0818
VR Screenings

 7.14(Sat)〜15(Sun) 13:00〜17:00
A presentation of VR works returns with a focus on Japanese VR that has been presented internationally. Experience the latest in ever evolving VR.
*No English Subtitles
Blue Thermal VR
© 小沢かな・新潮社/埼玉県/ SKIPシティ彩の国ビジュアルプラザ
Blue Thermal VR is an adaptation of popular coming-of-age manga "Blue Thermal" and is directed by an up-and-coming director. It was presented at the Market of this year's Cannes International Film Festival.
2018 / Japan / 12min.
Director: Shinichiro Ueda
Cast: Karin Ono, Atom Mizuishi, Taketo Tanaka
Produced by Saitama Precture / SKIP CITY Sai-No-Kuni Visual Plaza
Ultraman Zero VR
©Tsuburaya Pro / ©Ultraman Zero VR Production Committee
Somewhere in Minato District, a space monster Eleking appears. The people in an office building escape through an emergency exit and find Ultraman Zero and the humongous monster fighting.
2017/Japan/6min.
Director: Kiyotaka Taguchi
Produced by Tsuburaya Productions / Pony Canyon, eje
---
Free Admission
For Inquiries: Digital SKIP Station TEL: 048-264-7777
Made in SKIP City

 7.19(Thu) 10:30
A special screening of two films, Kobaton The Movie, a short film produced by filmmakers based in SKIP City that introduces attractions in Saitama, and a film about a heartwarming relationship between a grandfather and granddaughter, Wish Upon A Star – Grandad Wants to be a Truck Driver produced by Saitama Trucking Association. Enjoy short films that are packed with the charms of Saitama.
*No English Subtitles
Wish Upon A Star – Grandad Wants to be a Truck Driver
© 埼玉県トラック協会
60-year-old Ryoji passed on his soba noodle shop to his adopted son-in-law and enjoys seeing off and picking up his granddaughter to school every day. He used to have a dream of becoming a truck driver. When his granddaughter asks why he gave up his dream, he decides to make it happen.
2018 / Japan / 23min.
Director: Koki Fukuyama
Cast: Daijiro Harada, Mana Hiroyama, Emi Mori, Masayuki Yuhara
---
Free Admission (First come first served basis)
For Inquiries: Digital SKIP Station TEL: 048-264-7777
Camera Crayon – Exciting Films Produced by Children! –

 7.21(Sat) 10:30
In this year's Camera Crayon, we present Distresscall and Rally & Smash produced by Kawaguchi Kids Movie Club and the best TV shows produced in the Audio Visual Learning Program. To be followed by a Q&A with the children who made the shorts. Enjoy the creativity of the children.
*No English Subtitles
Distresscall
Rally & Smash
Best of Audio Visual Learning Program
---
Free Admission (First come first served basis)
For inquiries: Audio Visual Museum Camera Crayon TEL: 048-265-2590