NEWS
Full line-up announced!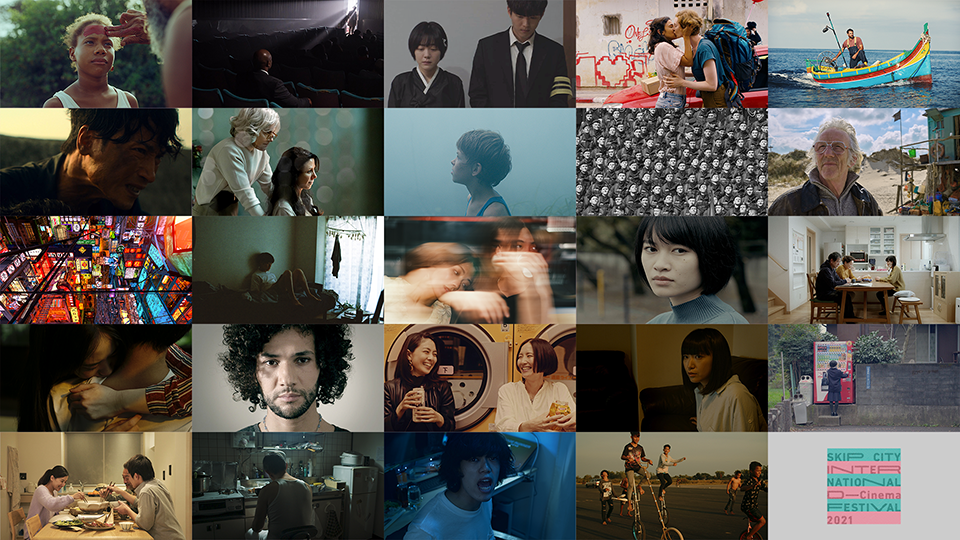 SKIP CITY INTERNATIONAL D-Cinema FESTIVAL 2021 (the 18th) will be held virtually on the streaming platform "Cinema Discoveries" for 9 days from Saturday, September 25th to Sunday, October 3rd, in order to prevent the spread of the coronavirus infection and ensure the safety of audience and related visitors.
we announced the full line-up consisting of the titles of the International Competition and the Japanese Film Competition.
International Competition is the centerpiece of the festival. The very best 10 films are selected from the record number of submissions. All films are Japan Premiere at least!
This year, we received 889 entries, the most in festival history, from 104 countries and regions. Among them a total of the very best ten films were selected. Works from Curaçao and Malta have been nominated for the first time. There are films confronting social problems entangling immigrants and refugees and on the other hand, there are films depicting the choices of life and familial love. The "world" viewed from the perspective of each of these up-and-coming directors from each country rises to the surface.
In the Japanese Film Competition, for the purpose of discovering talents who will carry the future of Japanese films, 6 feature films and 8 short films are nominated.
All 6 films are World Premiere for Japanese Feature Competition! 6 films are World Premiere and 2 films are Japan Premiere for Japanese Short Competition!
This year, we received a record-breaking 82 features and 195 shorts, with six features and eight shorts being nominated. It's a selection that provides a sense of the expanding horizons of Japanese cinema, featuring ambitious works of various genres such as coming-of-age, horror, and the first feature animation to be nominated to this section; and masterpieces shot in France, Cambodia, and India.
The official jury members, who are esteemed domestic and international industry professionals, will judge the nominated films and the awards including the Grand Prize will be given out on the last day of the festival.