2020 Overview
The 17th edition of the SKIP CITY INTERNATIONAL D-Cinema FESTIVAL 2020 ran over 9 days from Saturday, September 26, to Sunday, October 4. The festival was held virtually for the first time, for prevention of the spread of COVID-19 infections.
The films competed in three categories, the International Competition, the Japanese Film Feature Competition and the Japanese Film Short Competition. We received a total of 1,169 entries from 106 different countries and regions. Both numbers are the highest ever. From these, 10 international competition, 5 Japanese feature competition and 9 Japanese short competition films were screened. Film producer Masa Sawada for the International Competition and production designer Kyoko Heya for the Japanese Film Competition led the Jury. The competition films were screened on the streaming site "Cinema Discoveries".
During the festival, online interviews with the directors from the international competition and live online Q&As with the Japanese directors and actors were streamed. Even though the festival was held virtually, the audience could still interact with the filmmakers and experience the merits of a film festival.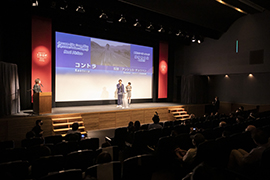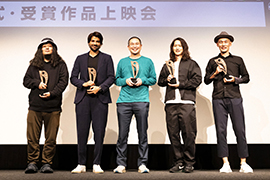 The awards ceremony was held on Sunday, October 4, which was the last day of the festival. Hope (Norway, Sweden), directed by Maria Sødahl, was the unanimous choice for the Grand Prize. The Pencil (Russia), directed by Natalya Nazarova, received both the Best Director and Special Jury Prize. This is the first time that one film received more than two main awards out of three. The Audience Award went to Hearts and Bones (Australia) directed by Ben Lawrence.
In the Japanese Film Competition, Kontora (Japan) directed by Anshul Chauhan and Stay (Japan) directed by Naoya Fujita received the Best Picture in the feature length and short length categories respectively. Meanwhile, Cornflakes (Japan) directed by Teppei Isobe and Muito Prazer (Japan) directed by Park Jengil received the Audience Award in the feature length and short length categories respectively. Teppei Isobe's films have been nominated and received awards three years straight since 2018. Woman of the Photographs (Japan), directed by Takeshi Kushida, received the SKIP CITY AWARD which is given to a Japanese filmmaker whose next feature project is highly anticipated.
The 2020 edition concluded with great success with 8,142 viewings by the nationwide audience. The 2020 edition of the Festival was held as a gateway to the further success of young filmmakers into the world and as a festival for spreading the joyful experience of cinema to the audience.