2021 Overview
The 18th edition of the SKIP CITY INTERNATIONAL D-Cinema FESTIVAL was held over 9 days from Saturday, September 25, to Sunday, October 3 virtually at the streaming site "Cinema Discoveries" again continuing from last year, for preventing infection spread of COVID-19.
The films competed in three categories, the International Competition, the Japanese Feature Film Competition and the Japanese Short Film Competition. We received a total of 1.084 entries from 104 different countries and regions. From these, 10 international competition, 6 Japanese feature competition and 8 Japanese short competition films were screened. Actor and Film Director Naoto Takenaka for the International Competition and CEO of dongyu.inc and Producer Mizue Kunizane for the Japanese Film Competition led the Jury, and the Jury members decided the award winners.
During the festival term, not only the online film screenings but also the online interviews with the directors from the international competition and the live online Q&As with the Japanese directors were streamed. The audience could interact with the filmmakers and have merit of the film festival.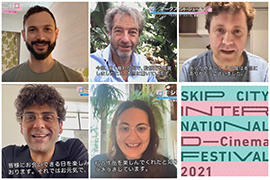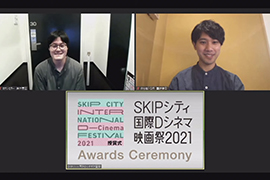 The awards ceremony was live-streamed on YouTube Live on Sunday, October 3, which was the last day of the festival. Luzzu (Malta), directed by Alex Camilleri, received the Grand Prize. Rival (Germany, Ukraine), directed by Marcus Lenz, received the Best Director. Cinema of Sleep (Canada) directed by Jeffrey St. Jules and Mitra (Netherlands, Germany, Denmark) directed by Kaweh Modiri shared Special Jury Prize. This is the first time that two films shared Special Jury Prize. The Audience Award chosen by the audience votes went to Kiss Me Before It Blows Up (Germany) directed by Shirel Peleg.
In the Japanese Film Competition, Journey Beyond the Night (Japan) directed by Takayuki Kayano in the Feature Length section and A Little Circus (Japan, Cambodia) directed by Yoshiro Osaka in the Short Length section received the Best Picture as well as the Audience Award. Psychology Counselor (Japan), directed by Zenzo Sakai, received the SKIP CITY AWARD which is given to a Japanese filmmaker whose next feature project is highly anticipated. This year's Japanese Film Competition turned out to be a remarkable edition, with the winners receiving not only the Best Picture but also the Audience Award in both Feature Length and Short Length sections, and the SKIP CITY AWARD going to a short film for the first time.
The 2021 edition concluded with great success with 8,465 viewings by a nationwide audience, which was a higher figure than last year. The Festival will continue to try to discover new talent as a gateway to the further success of young filmmakers and to become a festival for spreading the joyful experience of cinema to the audience.