Festival Map
Enjoy Facilities at SKIP City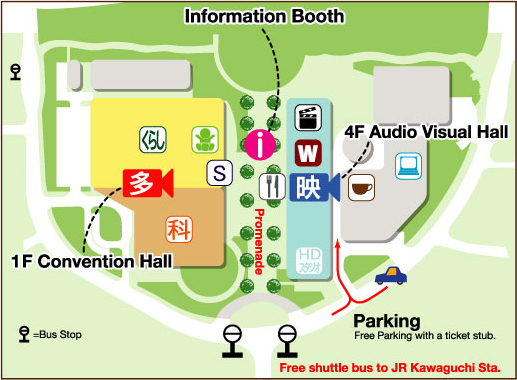 Nursery Service

Enjoy films while leaving your children at the care of our nursery.

Fee: ¥100 (Pay at the counter)
Available Dates: Oct.9 (Sun), 10 (Mon), 11 (Tue), 15 (Sat)
For pre-school children over the age of 1
Contact: Comaam 0120-506-092,
048-256-1666
(9:00-18:00 daily during the week)

Visual Museum(2F)

Learn the history and principles of filmmaking process with the interactive exhibition.
A special exhibition Moving Tabelau is also on display.

9:30~17:00(Entry until 16:30)
Free admission with a ticket stub only during the festival.

Saitama Prefectural Center for Consumer Affairs (2F)

An Interactive exhibition facility where you can learn about consumer affairs. Free Kurassi
strap giveaway with a festival ticket stub.
9:30~17:00(Entry until 16:30)
Free admission

Kawaguchi Art School of Waseda University

Visual works by students including Non Electrical Visual Device, which utilizes natural energy, will be displayed.

SADECO SHOP

Come by and shop various design products and rare food products manufactured by the members of a vocational aid center.

Audio Visual Library (2F)

An audio visual archive where you can view historic programs of NHK and Saitama Prefecture.
9:30~17: 30
Free admission

Kawaguchi Science Museum

A creative and insightful museum with an observatory,
a planetarium, and a science
exhibition room.
9:30~17:00(Entry until 16:30)
Science Exhibition: Adult ¥200, Child: ¥100
Planetarium: Adult ¥400, Child: ¥200

Cinema Café Hibiki(2F)

The very first participation of Cinema Café hosted by Japanese drum group Hibiki. Enjoy flavorful coffee after the movie. Sandwich and light meals are also available.