Access
SKIP CITY (3-12-63, Kamiaoki, Kawaguchi City)
● There are free shuttle buses during the festival from the East Exit of Kawaguchi Station, JR Keihin-Tohoku Line (approx. 12 min.).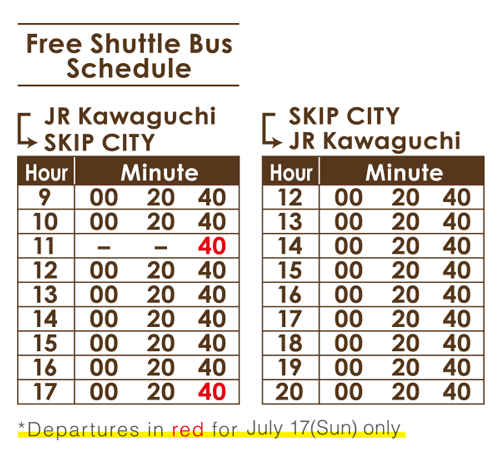 *Public bus transport is also available from Kawaguchi Station, Nishi-Kawaguchi Station (JR line) and Hatogaya Station (SR line). (5 minutes walk from the Sogo-Koko bus stop. Please check the website below for the bus schedule.)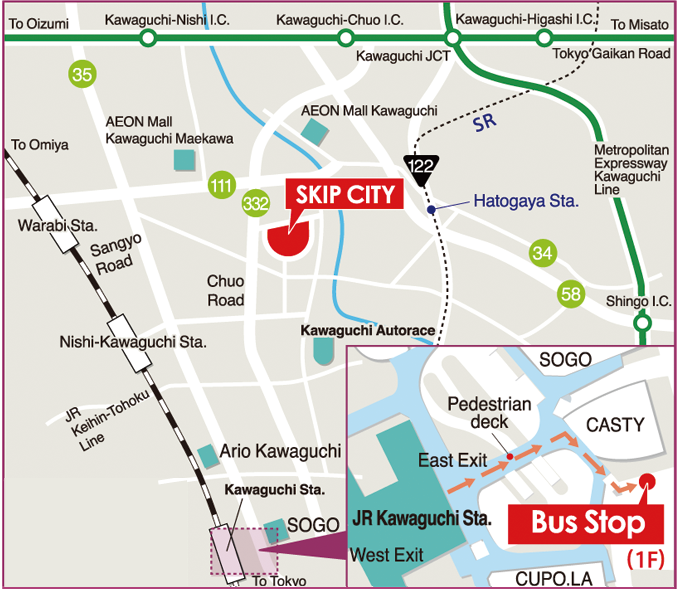 Kokusai Kogyo Bus website
Directions by Car
● Free Parking Available (with a ticket stub)
Tour Screenings
Tour Screening will be held in two additional locations in Saitama over two days at Kounosu Cinema and Sai-no-kuni Saitama Art Theater. Short films from the competition program will be screened. Please join us!
*Please take a look at the Short Length Competition schedule on the program.
■Saitama Art Theater
●ADRESS:3-15-1,Uemine , Saitama Chuo-ku, Saitama, Japan
     (7 min. walk from Yonohommachi Station on JR Saikyo Line)
●TEL:048-858-5500
●www.saf.or.jp/arthall/
■Kounosu Cinema
ADRESS:1-2-1,Honcho, Kounosu, Saitama, Japan
     (3 min. walk from Kounosu Station on JR Takasaki Line)
●TEL:048-544-9200
●www.kounosucinema.jp/